Located only one hour away from Attica and perfect for a weekend getaway, Kea is a rich Cycladic world teeming with surprises
As you approach the island of Kea (also known as Tzia) you are greeted by its wild western slopes, the port of Korissia and, in the distance, Ioulida – the island's capital (or Chora). Pretty and low-key it is among the most charming in the entire Cyclades.
The first impression is that Kea's landscape is typical of the Cyclades, yet behind this exterior, Kea has a surprisingly unique and varied landscape: oak forests; a few olive trees; rugged rocky slopes interspersed by almond groves and, scattered throughout, tasteful summer homes, many of which have been built by charismatic architects inspired by the simplicity of Kea's traditional farmhouses built out of local stone.
Overall, the island has managed to maintain a remarkable sense of balance. On the one hand it remains closely connected to nature(roughly 60% of the island's forests are protected as part of the Natura network) and the traditional practice of raising livestock remains an important economic activity. Yet at the same time it is developing a sophisticated form of tourism, maintaining a discreet cosmopolitanism.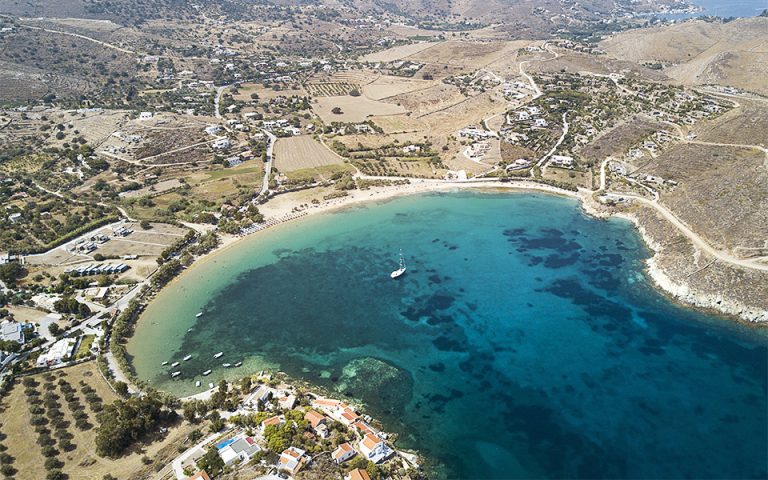 Well known figures from the worlds of the arts, journalism and other walks of life from Greece and abroad are among those who have country homes on the island and visit frequently. As the island's mayor, Yiannis Evangelou, tells us, during the high season the population of Kea does not exceed 6,500 together with the roughly 2,500 permanent residents. While the number of hotel rooms remains limited, in the last three years over 150 luxury villas and another 100 country homes have been added to internet platforms like Booking.com and Airbnb, significantly boosting the number of available beds on the island.
"It is a good thing that more people are coming, even if it has made things more difficult for us who have hotels and guesthouses," says Marcie Mayer, one of the owners of the agritourism business, Red Tractor Farm. Mayer has also played a key role in resurrecting the commercial exploitation of Kea's acorns (thus helping to preserve the island's oak trees), producing acorn cookies which have acquired a dedicated following in Greece and abroad.
In 2012 she also launched the Acorn Initiative which seeks make use of the acorn caps produced on the island by exporting them for use in the tanning industry. This summer arrived to find Kea quietly rejuvenated – and ourselves enjoying the hospitality of Porto Kea Suites in Korissia, dining on the exceptional dishes of its restaurant and lulled to sleep by the sound of the sea.